About a week ago me and my wife came home from a 3,5 week holiday, and this time we spent it on a camping trip through southern Germany and part of Austria (Vienna to be specific)
My wife always wanted to drive along the Romantische Strasse, so with the upcoming road toll plans in Germany next year we decided that this year would be a good time to do just that.
Just us two, an old tent, and a new inflatable mattress.
Below an idea of how we spent our time.
Me trying to inflate the airmattress with a 12 Volt pump without puncturing the thing, somewhere near Würzburg: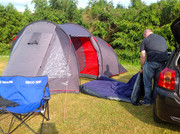 Our first good beers, somewhere in Würzburg: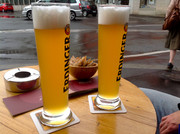 First from Apeldoorn to Würzburg, and from there all the way down to Füssen, visiting most of the old towns along the route.
For both of us the one that stood out was Rothenburg o.d. Tauber, even though the place was packed with bus loads of American & Japanese tourists.
The first group seemed content with eating every type of food the Bavarian kitchen had to offer, while the second group kept themselves busy photographing literally everything in sight & themselves.
Probably so they could see back at home what they could have seen while they were actually in Rothenburg had they been paying attention.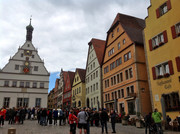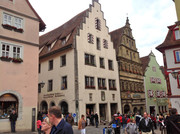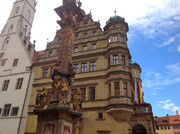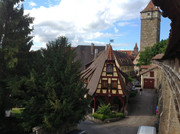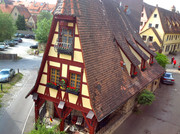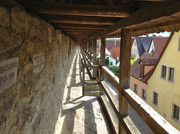 A friendly knife & gun shop owner whom i got to talk with (i just have to check out these places) shared with us the name and address of his favorite restaurant: Zum Grüner Baum in Bettenfeld, just a few kilometers outside of Rothenburg.
Literally in the middle of nowhere & hardly known by tourists.
http://www.gasthof-kellermann.de/
Of course we had to try it, and the shop owner was absolutely right: they do serve very good food & beer at prices we're not used to anymore in the Netherlands.
Every wednesday they slaughter their own pigs and turn them into really wonderful schnitzels and a host of other highly edible products.
This was my dinner by the way, a so called Schweizerschnitzel mit Käse & Schinken überbacken & Spätzle (9,90 Euro)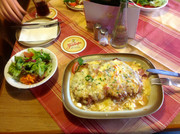 The Tücher Weizen beer they served ranked a very good third on our favorites list, just behind the Austrian Salmbrau Weizen (which we discovered in Vienna) and the Jacob Naturtrübes Weissbier (from which we took 12 bottles with us back to the Netherlands).
Another great stay we had at a camping next to the Forggensee, near Füssen at the end of the Romantische Strasse: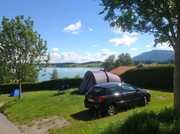 Beautiful location where we did some hiking, and also the location of the Neuschwanstein castle which we didn't visit because of the huge amount of Japanese tourists who decided to take tours of the castle just when we were there.
Luckily for us we could see the castle also from our camping site: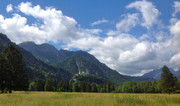 After this our plan was to head for Vienna in Austria, but then i remembered that we were probably quite close to the Obersalzberg, with the remains of the Berghof, Hitler's mountain retreat.
Like millions of others, i too have always had a certain fascination for WWII, it's main players & locations, as well as edged weapons from that era.
Part of this probably stems from my dad, who went into hiding when summoned for the Arbeitseinsatz and later became a member of the Dutch resistance for which he was even decorated after the war.
Anyway, we decided to drive there to see things for ourselves.
After driving the narrow and winding road all the way to the top we parked our car (3,00 euro) and walked to where we thought the remains of the Berghof might be.
At first we found a documentation center, for which we would have had to pay an additional fee, which we didn't feel like so we decided to explore things on our own.
We did stumble upon a rather large hotel, but we couldn't locate the actual Berghof remains, only this sign:
Then i decided to simply ask someone who was sitting in a camping chair in a small wooded area, and this turned out to be a stroke of luck as the man turned out the be a very knowledgeable German amateur-historian and allround nice guy.
"Your currently standing in it" was his answer to my question where to find the actual Berghof remains, and then he proceeded to point out for us the visible pieces of stone to prove it.
He also showed us the exact location of the so-called "Bormann tree", a full-size tree Martin Bormann had planted in only one night to provide shade for Hitler during hot sommer days.
Of course then i had to take some pics myself:
The concrete walls that divided the Berghof area from the rest of the mountain.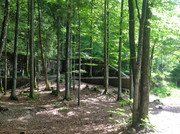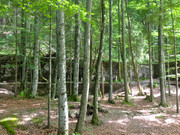 The stump of the middle column from the Berghof entrance: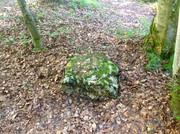 The remains of the fireplace, situated in the back of the main room with the large window: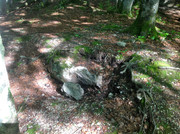 Berghof bunker emergency exit: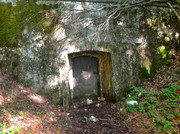 Right front corner & left front corner of the main Berghof structure.
In between here the unusually large window was situated, which could be lowered mechanically into a cellar below.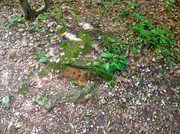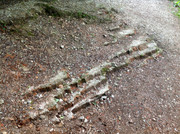 Post-war picture to showcase the size of the window: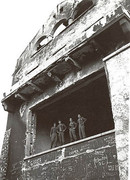 During our time there we continued to talk to the friendly amateur-historian, and when he decided for himself that we were no neo-nazi's looking for souvenirs he told us about his special project.
It turned out that he had been working for many years in his basement on an unusually large and detailed scale model of the Berghof, and to do this he even located the original blueprints in an old archive.
We exchanged e-mail addresses and he later sent me these pictures (the website is not live yet):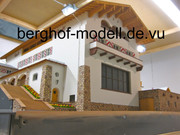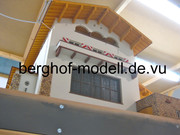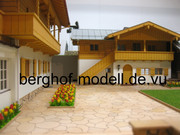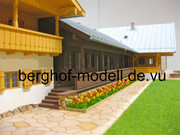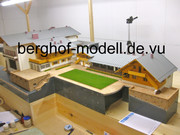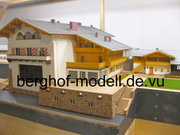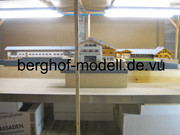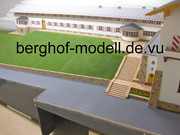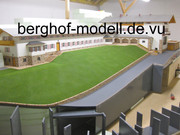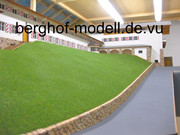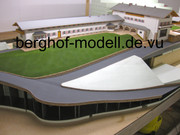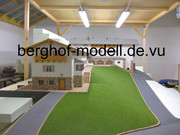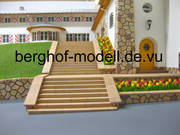 He told me these are just snapshots that he took himself, and as soon as he finishes the model (hopefully within a few years) he intends to get some professional photographs taken.
Next to this he is also busy writing a book about the Berghof (just about the building itself, not about the nazi ideology behind it), for which he intends to use both the pictures of his model as well as original pictures made by former Berghof household staff of the insides of the real Berghof building that have never been published before.
Since it was running late now we decided to camp nearby, and the next morning we had breakfast with this wonderful apple strudel & Sachertorte at Cafe Spiesberger in Berchtesgaden: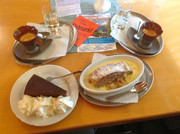 Afterwards we payed a short visit to the Königssee (King's lake) it was finally off in the direction of Vienna.
Königssee: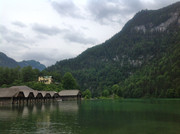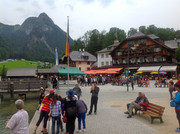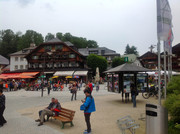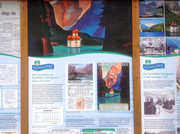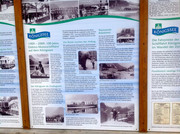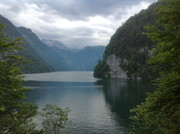 At home we already had done some research about where to stay when visiting Vienna, and the best location for us to do that turned out to be in the the small town of Klosterneuburg, just a few kilometers outside of Vienna itself.
The campsite there proved to be ideal: situated in walking distance from both the train & bus stations as well as a supermarket, plus a shady place for our tent (it was hot)
In the morning we took the train to Vienna, and then a combination of subways & trams to get everywhere.
We did take some pics (but by far not as many as the average Japanese tourist), so here's a selection to get an idea of how we spent 4 days in that magnificent city.
The best espresso we found was Baltasar:
http://balthasar.at/
We had oversize schnitzels at Figlmüller (tourist trap i know, but we had to try):
Very good icecream at the icecream salon Schwedenplatz:
A walk along the Prater (old amusement park):
http://www.prater.at/GeneralInformation.php?LI=1
Coffee & cake at Cafe Central:
https://en.wikipedia.org/wiki/Caf
é_Central
One of the things we do when travelling is visiting cemetaries, and in Vienna we found the largest in Europe.
A lot of famous people are buried there, and the place has many of the most elaborate graves we had ever seen.
Here are just a few:
The two brothers resting here are unknown to us, but the person who decorated their grave was an artist:
Actress Hedy Lamarr's honorary grave (her ashes are scattered in the Wienerwald):
Grave of pianist/singer Udo Jürgens, a piano covered with cloth, comletey made from one block of white marble.
He passed away in 2014 and the piano holds his ashes, as he did not want to be buried beneath the earth.
https://en.wikipedia.org/wiki/Udo_J
ürgens
Grave of Austrian singer Falco (real name Hans Hölzel), who had several hits when i was a lot younger.
He died tragically at age 40 from a car accident while on holiday in the Dominican Republic.
Falco was known for hits as Der Kommissar:
https://www.youtube.com/watch?v=_w4Xulsjo5I
Rock me Amadeus:
https://www.youtube.com/watch?v=cVikZ8Oe_XA
and what was likely his greatest hit here in the Netherlands: Jeanny:
https://www.youtube.com/watch?v=tuQLnwMEQQc
Later that day we went to Brauerei/Gaststätte Salmbräu where we shared a pork knuckle & a couple of truly fantastic beers.
http://www.salmbraeu.com/home/
This concluded our final day in Vienna, but when time & money permit we do plan to come back there.
For such a big city it has a very relaxed atmosphere, friendly & helpful people, and good food & drinks practically everywhere (and to us for very reasonable prices)
The following morning we packed our tent & other things and drove back to Germany, and from there slowly back to the Netherlands.
We did however stay 2 days on a camping at Rothenburg o.d. Tauber again, in part because we both wanted to have another one of those magnificent Schweizerschnitzel mit Käse & Schinken überbacken & Spätzle.
Life truly is good in Bavaria,